Ministry of Tribal Affairs
Year End Review- 2020 – Ministry of Tribal Affairs

M/O Tribal Affairs includes 23 additional MFP items in MSP list

M/O Tribal Affairs receives skoch gold award for its "Empowerment of tribals through it enabled scholarship schemes"

'Goal' programme launched for digital skilling of tribal youth across India in partnership with Facebook
Tribal Health & Nutrition Portal – 'Swasthya' launched; opens National overseas portal & tribal fellowship portal

MOTA & IIPA sign MoU for setting up National Institute of tribal research at IIPA Campus, New Delhi

In a new convergence based initiative, Van Dhan Kendras to be transformed into tribal enterprises mode under a cluster based model of development
The Ministry of Tribal Affairs is the nodal Ministry for overall policy, planning and coordination of programmes for development of Scheduled Tribes (STs). To this end, Ministry of Tribal Affairs has undertaken activities that follow from the subjects allocated under the Government of India (Allocation of Business) Rules, 1961.There was considerable progress in digital mechanisms and online monitoring systems especially for scholarship schemes and expenditure of funds for tribal welfare. Tribal medicine emerged as another priority area along with tribal research. Expansion of Eklavya Model Residential Schools was stepped up this year while empowerment of tribals through schemes like Van DhanYojana and Aadi Mahotsavas also remained on the forefront. Affirmation of tribal rights and their role in forest development was another important highlight this year.
Expansion of Scheme of Minimum Support Price(MSP) for Minor Forest Produce(MFP) and Upward Revision of MSP of Existing Items during 2020
During 2020, sweeping changes were made in the existing list of MFP covered under MSP as well as upward revision of MSP of 49 items of MFP in view of the exceptional and very difficult circumstances prevailing in the country on account of the COVID-19 Pandemic, and the potential of the Ministry of Tribal Affairs scheme to offer the much needed support to the tribal MFP gatherers.
The unprecedented circumstances caused by the ongoing COVID-19 pandemic threw up challenges and resulted in a severe crisis among the tribal population. Unemployment among youth, reverse migration of tribals threatened to throw the entire tribal economy off track. It is in such a scenario that the MSP for MFP has presented an opportunity to all the States.
In May this year, the Ministry of Tribal Affairs announced Inclusion of 23 additional Minor Forest Produce (MFP) items and stipulation of their Minimum Support Price (MSP) under the Centrally Sponsored Scheme titled "Mechanism for Marketing of Minor Forest Produce (MFP) through Minimum Support Price (MSP) and development of value chain of MFP". This decision enhancing the coverage from 50 to 73 items.
In another crucial announcement affecting the livelihoods of tribal gatherers, the Government also revised the Minimum Support Price (MSP) for Minor Forest Produce (MFP) of 49 items. The increase across various items of minor forest produce ranges from 16% to 66%.
The increase in MSP as well as expansion of List of covered items under MFP gave the much needed momentum to procurement of Minor Tribal Produce this year. MSP for MFP scheme is to address several issues of exploitation by local traders, ensuring fair returns on their produce. The Scheme provides a social safety net to these underprivileged forest dwellers, and to aid in their empowerment.
14 of the newly added items, otherwise agricultural produce, are not commercially grown in the North Eastern part of India but are found to grow in the wild in forests. Hence, the Ministry favourably considered to include these specific items as MFP items for the North-East.
Both the above initiatives gave a massive thrust to procurement of MFP by the central and state agencies as well as private traders. The procurement by Central agencies was an unprecedented amount of about Rs 150 crore accompanied by manifold higher procurement of MFP by state agencies as well as private traders.
2. Ministry of Tribal Affairs launches 'Goal' programme for Digital Skilling of Tribal Youth across India in partnership with Facebook (15th May, 2020)
Ministry Tribal Affairs launched the "GOAL (Going Online As Leaders)" programme. The GOAL programme is designed to provide mentorship to tribal youth through digital mode. The digitally enabled program envisages to act as a catalyst to explore hidden talents of the tribal youth, which will help in their personal development as well as contribute to all-round upliftment of their society.The link of the Webinar is as follows :
The Digital literacy has gained importance in view of challenges posed by Covid pandemic. MoTA's partnership with Facebook through GOAL programme has come at the right time to provide a platform to tribal youth and women to move ahead in life. The program intends to upskill and empower 5,000 tribal youths in the current phase to harness the full potential of digital platforms and tools to learn new ways of doing business, explore and connect with domestic and international markets. The digital skilling and technology will integrate them into the mainstream. The programme has been designed with a long term vision to develop the potential of tribal youth and women to help them acquire skills and knowledge through mentorship in various sectors including horticulture, food processing, bee keeping, tribal art and culture, medicinal herbs, entrepreneurship among others.Starting with 5000, the programme can be extended to cover any number of tribal persons who show keen interest in being mentored to achieve their goals.
The intent and content of GOAL program is unique and influential. This will go a long way in creating an environment for empowerment of tribal women by connecting them with digital world and use digital platforms to groom their talents. She hoped that the GOAL program will be successful in making fruitful impact towards enabling the ST youth to become financially independent. The GOAL programme demonstrates affirmative action which will go a long way to reduce the gap between tribal and non-tribal youth and will enlist participation of tribal youth in national building.
Ministry of Tribal Affairs Launches Tribal Health & Nutrition Portal – 'Swasthya' (17th August, 2020)
Ministry of Tribal Affairs launched the Tribal Health and Nutrition Portal 'Swasthya' and opened National Overseas Portal and National Tribal Fellowship Portal. The e-portal on tribal health and nutrition named 'Swasthya', is a first of its kind e-portal, providing all health and nutrition related information of the tribal population of India in a single platform. Swasthya will also curate innovative practices, research briefs, case studies, and best practices collected from different parts of India to facilitate the exchange of evidence, expertise and experiences. The of Tribal Affairs has recognized Piramal Swasthya as the Centre of Excellence for Knowledge Management (CoE for KM) for Health and Nutrition. The CoE will constantly engage with the Ministry and provide inputs to drive evidence-based policy and decision-making pertaining to health and nutrition of the tribal population of India. The portal http://swasthya.tribal.gov.in is hosted on NIC cloud.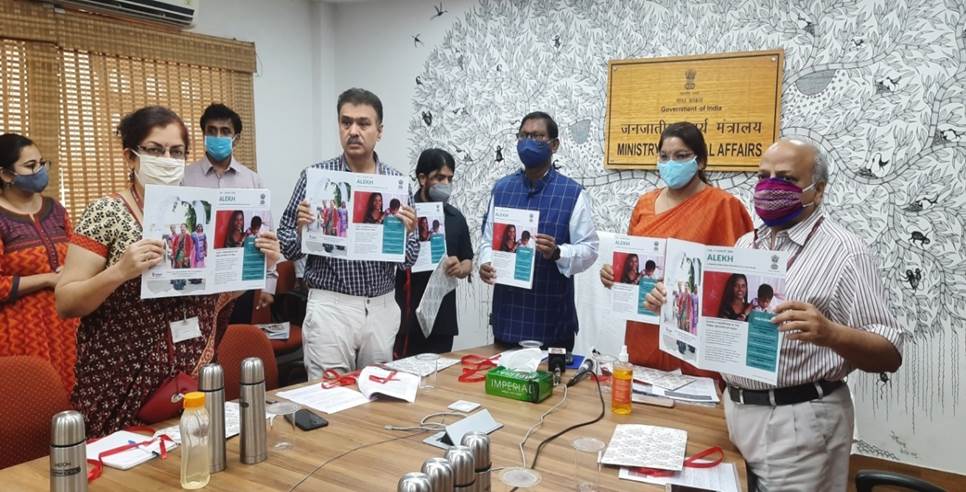 Online Performance Dashboard named "Empowering Tribals, Transforming India" launched
As a part of unwavering commitment of Government of India to realize Digital India goals, MoTA is an early adopter amongst Social Ministries as it moved towards a data-driven Governance model to achieve digital inclusion, financial inclusion, productivity improvement and social impact. It is ensuring that administrative data forms the backbone of evidence-based decision making, outcome-oriented planning and service delivery to the beneficiaries. In this endeavor all schemes and initiatives of the Ministry of Tribal Affairs are digitalized through 20 scheme specific portals and applications which are integrated with the mother website of Ministry – www.tribal.nic.in, and with a comprehensive, interactive, dynamic Performance Dashboard https:// dashboard.tribal.gov.in.
Online Performance Dashboard named "Empowering Tribals, Transforming India" provides updated and real-time data and status of 15 schemes and initiatives of the Ministry meant for achieving the Sustainable Development Goals of the United Nations. This is perhaps the first such initiative of any social sector Ministry to put such a huge data in respect of all schemes and initiatives of the Ministry at one place.
Out of these, 5 are scholarship schemes of the Ministry where every year about 30 lakh underprivileged ST beneficiaries are given financial support of Rs 2500 cr for pursuing studies from 9th Class (Pre Matric) to doing Post Garduation courses PhD and Post Doctorate in India and Abroad. In respect of Centrally Sponsored Scheme like Post Matric and Pre Matric Scholarship, the data is shared by 31 States/UTs on DBT Portal before being displayed on dashboard.
The dashboard is part of Digital India Initiative to work towards empowering Scheduled Tribes and will bring efficiency and transparency in the system. The performance of Tribal Ministry and 37 other Ministries who are required to spend allocated amount of their budget for tribal welfare under STC Component as per mechanism framed by NITI Aayog can be seen on various parameters on dashboard. The dashboard will also be one-point link to all e-initiatives of the Ministry" The