Selling solar power to UT not to be high-paying job
CHANDIGARH: The Joint Electricity Regulatory Commission
) has finally okayed tariff for gross metering
in the city, reducing it from Rs 6.30 per kilowatt hour (kWh) to Rs 4.88 per kWh.
Gross metering refers to the arrangement under which total
generated is exported to the grid. The new tariff will be applicable for gross metering projects commissioned from September 2, 2019, to March 31, 2020.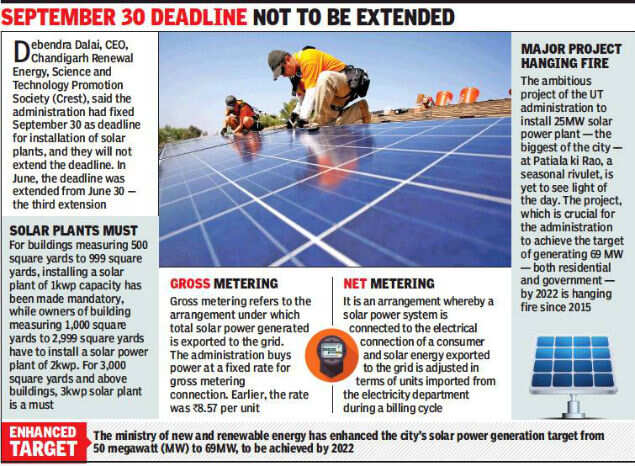 The commission had earlier come up with solar tariff applicable for the financial year of 2016-17 and 2017-18.
Debendra Dalai, CEO, Chandigarh Renewal Energy, Science and Technology Promotion Society (Crest), said people can now opt for gross metering plan as well. He said the JERC considered multiple factors while finalizing the tariff. As the installation cost of solar plants have gone down in recent years, the commission might have considered this point, he said.
Due to non-availability of tariff, the UT electricity department had stopped giving connection on gross metering.
At the same, Raj Kumar, a city resident, said the administration should file a revised petition for increasing the tariff for gross metering plants. The high tariff, which residents will get while selling solar power to the administration, will encourage more to come forward for installation of solar plants, he suggested.
The Union government had selected Chandigarh to be developed as model solar city with a target of generating 69MW of solar energy by 2022 through net and gross metering. The Crest has till date managed to install solar power plant with a capacity of 30MW. The Crest will have to ensure generation of 39MW.